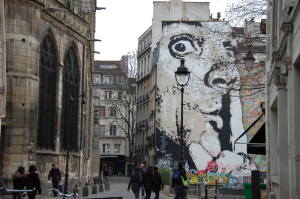 Shhh!
I'm still adjusting to my current time zone, so woke early, but didn't climb down from my nest till noon.
I ran out of baguette and greens, so figured I'd have to hunt for an open market, since it is Sunday, and most of Paris is closed. Luckily, my flat is very close to Le Marais district, which is the one place in Paris that has many shops open.

I was very close to le Marais, much closer than I expected.
This was the first day I explored in the direction of the Seine and Notre Dame. I got distracted by the "Soldes" signs.

 This is the season of the winter sales in Paris. They only have sales twice a year. Once in the winter and once in the summer, for about 3-6 weeks each. Sales are city-wide, including the national/international chains like H&M, and the large super expensive Galleries Lafayette.  I'm going to explore the smaller boutiques in the Marais over the next few days, a little at a time.
After taking a quick look at the shop sales, I made my way towards Notre Dame. Along the way I found a little market that sold caged birds, some "pet" rodents, lovely orchids, and other garden plants and decorations. While the bird/rodent market wouldn't fly, pardon the pun, in the USA, the lovely birdsong certainly brightened up a dreary day.
Once I took a peek at the cathedral, I had my fill of damp cold, and made my way back home to find bread and other supplemental food stuffs. Along the way, I found the slightly seedier side of Paris. An actual "Love Hotel" and "Sex shops" sprinkled among the other shops and felafel stands. Mostly closed.
I finally found my baguette, as well as a pastry I've seen around, but had no idea what it was. They were selling like crazy, so I decided to go with a small one, just to see what it was all about. It was a "Kings Cake" Usually sold around January 6th. There is a small charm hidden inside puff pastry filled with a sweet almond paste. De-Licious!!!
The past few days I spent appreciating bread and pastries. I've found the grocery stores, and will be doing my best to commit to eating clean. I'm going to have to build in allowed cheat days, because otherwise I will snap like a dry brittle twig. Wish me luck!
Internet is spotty, so I will try to post some cool photos again later.