I was almost ready to tuck in for the evening. Laundry is drying by "The Light of a Million Suns", my affectionate moniker for my space heater. I'd just eaten dinner of pasta with meat sauce – don't judge me, paleo eaters, the sauce had meat.
Suddenly, I remembered that I was in Barcelona Spain, and I yearned for a cafe cortado – espresso with a dash of milk. It was 9:30 pm – and dinner doesn't start till 10pm. I had time to toss some clothes on and go for a stroll.
I found a lovely restaurant and looked at the menu. Meals were easily around 70€. Thank goodness I already ate dinner.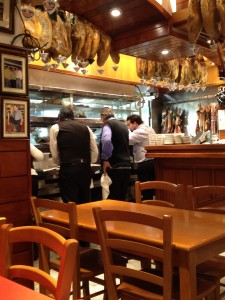 I felt badly for just sitting for coffee, so I felt obliged to order some cava (sparkling white wine – something I've come to appreciate, thanks to Elaine and Christine) and a desert – Catalonian creme brûlée with pineapple. It is HUGE!!! I think it was meant to be shared. Sadly, I had to finish it alone.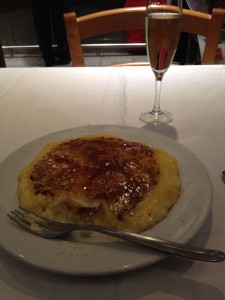 The waiters were sweet, even when they realized I wasn't eating a full meal.
Oh! The table next to me just got their meal, some kind of salt encrusted fish, looks like food is served family style – so my desert was probably meant for a family of four. Four Football players. I may be holding my tummy, and moaning later.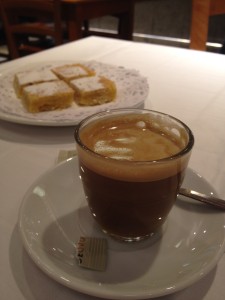 But, it was good.
If in Barceloneta, Barcelona, check out: