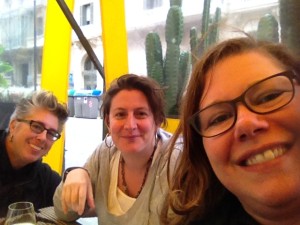 Nice was lovely, even in the rain, however I will have to return another time to fully appreciate the beauty of Nice and take a visit to Cannes and Monaco.  Unfortunately, I was sick for most of my time in Nice, but luckily, I had a bed, and access to good food to recover.  When I wasn't trying to sleep the head and chest congestion away, it was raining torrentially.  I walked around town a bit, but often felt like I was swimming in the streets.
Thursday came around, my last day in Nice, and the sun finally made its appearance.  I ran around town soaking in the sun, searching for the post office to mail a post card, and some condolence cards, and grabbing some food for my trip to Barcelona.  It was a mad dash to get this all done before I had to get back to the flat to get my bag, and make my way to the airport.
I'm glad I left when I did, as I learned that even Nice has its own version of "traffic".  I had hopped the 98 bus, which has several pick-ups along the way to T2 of Nice airport.  I had already checked in online, and thus made my way to the security checkpoint.  There was only one person ahead of me, which was wonderful!  The flight from Nice to Barcelona is brief – only about an hour.  It took longer to get to the Barceloneta flat from the Barcelona airport.  Not bad, but I had landed at about 8:30pm, and got to the flat about 10:15pm.
I have a love/hate relationship with Siri & the Maps function.  Siri usually can get me to the general area, but often the orientation of the map does not match the direction I'm facing, so there is sometimes much retracing of steps.  She got me to the general area, and the Airbnb fella stuck his head out the door, half way down the block, and called my name, so at least she got me to the right street.  There were no door numbers as far as I could see, at that time of night.
The flat is quite basic, but has two whole rooms, and a bathroom.  The whole place is cold and damp, but it is only 2 blocks from the beach.  The flat also has a space heater, that shines with the light of a million burning suns – so if I want to sleep warm, or have any laundry dry, I will be sleeping in the light of high noon. Once I got myself settled, I was asleep in mere moments!
I slept in on Friday, then roamed around to find my bearings, and a tourist office.  Earlier that day, two friends, Christine and Elaine,  who have been living in Barcelona for the past two years, invited me out for tapas, so I freshened up and met them at a wonderful spot about 7:30pm.  They introduced me to some delicious wine – Locomotiva – the first red wine that I've found delicious right away at the first sip, and some yummy tapas.  We talked about their experiences in Barcelona, and after dinner they took me on a night walk around the city.  We saw the eternal flame, which burns to memorialize the people who lost their lives during the Catalan battle to separate from Spain – which they lost.  Later that evening we saw a light and video show that is shown on the face of a white stone building – awesome shows!  Once I get the short video's I shot loaded on Youtube, I'll post links to them here.
This morning we met again, this time for brunch, another wonderful walk around town, and then a late lunch tapas at Tapas 24.  We were super lucky to get there when there was only a short line – this place is in high demand, and is first come, first served.  They introduced me to Cava, a wonderful sparkling white wine, and more fabulous tapas, including an absolutely delicious ham that has a nutty flavor, from the pigs being fed on a diet of acorns and hazelnuts.  The meat melted in my mouth!  We also "tried" some fried calamari – it was prepared in a way that neither Elaine, nor I, expected.  I ate one, and Elaine made a heroic attack on the rest of the plate, and got through about half of the critters.  Brave woman.  We were both expecting breaded and fried calamari.  These were tiny, but absolutely whole, including ink and I'm assuming beak (I think that was what the crunch was…and why I only ate one).
Desert was dollops of chocolate ganache, drizzled with olive oil and sprinkled with salt, served with a small piece of toast.  Olive oil and chocolate?  OMG – yes, it was rich and a perfect way to end that little meal.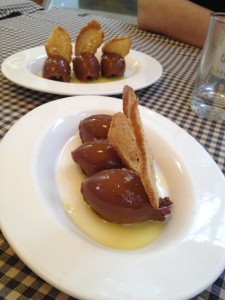 I travel so much on my own, and alone.  I enjoy it, but I've really appreciated having friends in a place I'm visiting, and getting to see the city through their eyes.  I'll always be grateful to Christine and Elaine for sharing their Barcelona with me!
I have to get to bed shortly, as there are a couple of sights I want to see tomorrow – I'll let you all know what I go to see!