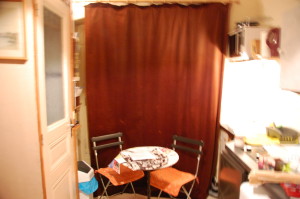 I'm on my way.  The morning was full of stress, a little bit of panic, and some sadness that I wouldn't be seeing my home for six months.  Did I get everything done?  The water heater is off, and the water turned off.  Will everything be safe and sound for all that time?  I still had to drop off the cable box, since I had the service turned off that day.  Then the drive to the bus station for my ride to Logan Airport, in Boston.  My nerves were still high, and as I was driving I kept having mini-panic attacks, thinking please let me make it to the bus safely.  I kept thinking I would get into a car accident.  On the ten minute ride to the bus.  Then, I locked the keys in the car, so I wouldn't have to carry the keys for six months, and possibly lose them.  (I left a set of keys with my father, so he could pick the car up later…eventually).
I never really relax until after I get past security, even when I traveled weekly for work.  Whew! Even thinking back to pre-security stress brings it all back.  But then, once I get through…it sorts of melts away.  I'm still excited, but the dread of leaving home for so long slowly trickles away.  I was planning on traveling through some major airports, and using airlines that have a partner agreement with Delta, since I still have some status, so I renewed my Sky Club membership.  It makes for a bit more comfort when going on longer flights, with the partner airlines.  I get to use their clubs, which is nice – free internet, refreshments, and a more comfortable quiet place to wait for my long haul flight.
Since I was flying via Virgin Atlantic, I got to use the Virgin Club.  That, my friends, is a super nice club.  Table service, nice menu…certainly an elegant way to spend a couple of hours before the first leg of my flight.  All too soon it was over, and it was time to board the flight.
My seat mate was an elderly woman, that reminded me of my grandmother, so it was a pleasant ride.  Nice conversation, and periods of quiet.  I was surprised how fast the trip was.  The seven hours went quickly.  Before I knew it, we were landing in London.
I thought I'd be able to get into the Arrival's lounge for Virgin, but I had to go through customs first.  The Passport control officer was a bit cranky.  I had heard that to prevent Passport control from stamping a whole page of your passport, you could put on a sticky note, just so they don't open your passport at random and stamp away.  Apparently, you should really not do that.  I bet I now must have some kind of note in my file.  That was so not a lot of fun.  But, I got through.  Only to find out that the Revivals Lounge isn't available to Delta Sky Club members till April.  Darn and Shucks.  There were other words.  I'll spare you.  Thus I made my way to the other terminal, and back through security.  It wasn't that bad, but not as relaxing as I had anticipated my four-hour layover to be.  Also, my cell phone data service, which was supposed to work out of the country, wasn't.  Also, my credit card's chip and strip weren't working.  Yayness.  I had brought my insulated mug, and some tea bags, so was able to get some hot water for tea, and I brought some snacks.  I managed to chill, and eventually boarded my short flight from London to Paris.
The trip from Charles De Gaulle to the flat was uneventful – I was so excited to see the place, find food, and crash.  The Host, Claude, was a small, older, very energetic gentleman, who took me all the way from how to get through the two security doors, how to use the elevator (200 Euro fine if I block the doors and the elevator gets stuck.) How to get into the apartment, how to flush the toilet (200 Euro fine if anything other than waste and tp goes down and blocks the line), how to use the washer/dryer, which came with instructions in English.  Where the trash goes, and what should be recycled and what isn't.  Where the good markets were.
Once the "Orientation was over, I headed on a search for a market, I needed some provisions.
That is usually how my travel day goes.  I arrive in a new place, show up at the lodging, get  a little orientation, run out for provisions, and then plan my stay after scouting around a bit.  Or napping, depending on the day.
Soon I'll be posting on what my days were like in Paris.