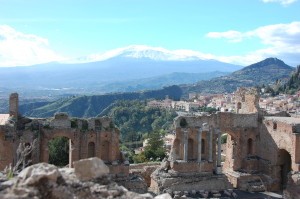 The Teatro Greco is a Greek Amphitheater built on a hill in Taormina, Sicily Italy, not far from Catania.  The portion of the ruins you see in the photo were probably built by the Romans on top of a more ancient Greek structure of the amphitheater.
In the distance is Mt. Etna, which was at the time of my visit, an actively erupting volcano.
The town of Taormina is just a short walk away, and is chock full of historic architecture, shops, restaurants, and night clubs.  Since the town is built on a cliff overlooking the Ionian Sea, the views are breathtaking.
I wasn't in the area long – I had taken the bus from Catania to spend the day in Taormina.  I was alone initially, but as I got off the bus in Taormina, I started talking with a Chinese family who were just starting a vacation, and a Korean woman traveling alone, who was just finishing up her world travels before returning to Korea.
There were language barriers, but it was nice for all of us to share our first experience of a new town.  There is just something magical about sharing a new place with someone, even if it is a stranger.  In that moment you have forged a connection with another soul, and you are no longer alone in your experience.