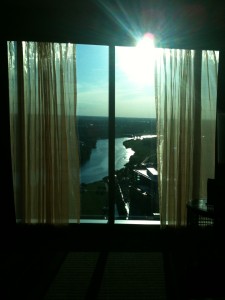 Imagine that you are just arriving to your dream destination, out-side of your home country.  You are so excited, and you can't wait to get yourself some food and settled before you go exploring.  It is a totally awesome feeling…until you realize that you can't take any money from an ATM, because your bank thinks you stole your own bank card.  Gah! That is awful!  Well, at least you have your credit card, right?  But, that is a big negative, as your card is declined the first time you use it.  Oh NO!!!
You forgot to notify your bank and credit card company that you were traveling out of country.  You just also have traveled to a country that has been blocked by your financial institutions.  You now have to call the phone number for each, or you would if you had cash to buy a phone card, and actually had the international phone number….
What a nightmare that would be!
While you are still state-side, call your bank and credit card company!!!  They may also have an on-line way of submitting a travel notification, as well.    I just did this, tonight, for my upcoming trip to Costa Rica.
If you are planning on doing more world travel, consider looking into a credit card that has a chip, and pin combo.  Last year my credit card company automatically sent me a card with a chip that can be used in Europe.  I just have to set up a pin code.  I've been to Paris three times, and each time I used my old card, I had to explain that it has to be swiped.  I just annoyed the heck out of the shop clerk.  Yay.  Now, when I go back in 2014, I'll get to feel a bit more European when I spend my money.  Ha!
Sure, you could bring US dollars, or American Express Traveller's Checks, but you get really bad exchange rates.  The rate will never be in your favor when you exchange cash at a bank, hotel, or hostel.  Forget about the airport.
Using your bank card to withdraw cash, will usually give you a better rate of exchange, as your domestic bank usually take the best rate of the day, and apply it to any transactions done that day.  Keep in mind that your bank may charge a foreign transaction fee.  I think mine charges three percent.  I usually take out an amount of cash that will last me a while, for things that I can't use credit cards.  I also don't take out so much that it would ruin me, if it was lost or stolen.
I try to use my credit card as much as I can.  My card does not charge any fees, and protects my purchases, as well as protecting me against fraud.
All this talk about money, I actually sound like I'm rolling in it.  Not so, but what I have, I plan to use sparingly and wisely.
I'll be posting, within the next few weeks, about budgeting for long-term travel as well.  So stay tuned!