I think it is the 4th day including the day I arrived. These past few days have been like a real vacation. Wake, stress a little – I should be doing something- then I realize what I should be doing is being on the beach… All. Day. So I get dressed, grab my beach bag. On my way I stop for breakfast, at the open air market.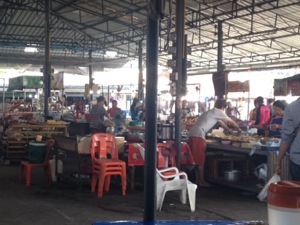 Today it was stir-fried morning-glory vine with garlic, chili and brown sauce & rice for 40thb, and a morning snack of a small bag of sticky rice.
There is a small part of the beach that has beach chairs you can rent for the whole day, for only 50thb ($1.50). The woman who gave me a pedicure on the beach told me about it. Oh, yeah, Thai women roam the beach offering pedicures, manicures, & massages.
Lunch was a carved pineapple and a coconut. The fellow added some small bananas, too.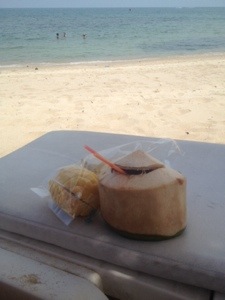 I also got the lowdown on when Songkran is being celebrated near Lamai Beach. It starts tonight and all day tomorrow. I will not have a dry walk home tonight.