If you combined London, New York, ancient China and Bladerunner, you would get a city almost as incredible as Hong Kong.
Gleaming towers, full of shops that sparkle, red double-decker buses passing you on the main streets. Modernity like a decorative lace edge to a complex brocade of vast history.  Glass towers next to decades old buildings, both surround spectacular temples.
The narrow streets and alleys, tucked between those shining towers, lure you into a different, yet just as wonderful world. Even when the alleys are packed with people streaming from one destination to another.  Market streets overflow with bargains, treasures, junk, essentials and baubles.
Restaurants set up under umbrellas and tarps,  on sidewalks, dimly lit by street lights and the glow of your cellphone.  You've had to wait in the shelter of a nearby door way, or under your own umbrella, for a seat to become available.  But the crowded tables tell you the food is worth the wait in the rain.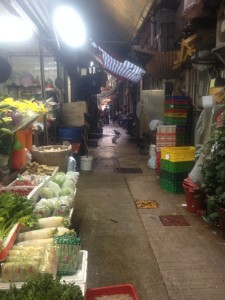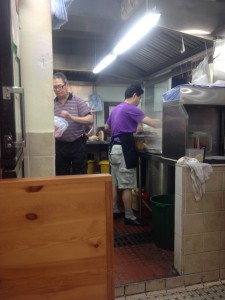 Chinese bakeries, almost hidden, are running out of stock as you stand outside.  You realize if you don't get in there RIGHT NOW, you won't get any of the coconut mango mochi. Not getting freshly made coconut mango mochi, when you knew you had the chance, would make you cry yourself to sleep that night, and kick yourself for days. So you walk in, point to the glorious pillows of coconut mango mochi, and politely let the shop keeper know that you will take all that remain.  All of them.
To appreciate my deep and abiding love for coconut mango mochi, imagine a food item you ADORE.  You love it so much, that you kind of want the world to know about it.  You want your friends and loved ones to taste the glory of that exquisitely delicious morsel.  You love your friends and family – you really do!  But, if you gave one of your precious morsels away, it would be one less experience of your precious….So, If you are ever with me when I buy coconut mango mochi, and I give you one, you will know that I really do consider you a true and worthy friend.
People ask "Where is your favorite place you visited?" It is always a hard question to answer, but Hong Kong may be my favorite.  I got all of the above amazing experiences, plus made some beautiful friendships.  There is just something about friendship that makes every experience that much more powerful and fulfilling.  I really do feel as if I have a brother and sister in Hong Kong…but that is a subject for a different post.
Back in 2014, in May, I spent a couple of amazing weeks in Hong Kong.  I recovered from "The Best Italian Pizza, from a Mexican Restaurant, in all of South East Asia" – (This will turn into a link as soon as I write the post!) Most of the time I felt like I was swimming through the streets, it rained so much.  I walked for days through the rain.  I learned that I had to have a different definition of self beauty in 100 percent humidity.  I was humbled by my flipflops.  I was raised up by beautiful friendship.  My heart is full when I think about Hong Kong.
The last photo of my post is of my HK metro pass…it is so freakin cute, and I'm saving it for the next time I get to HK.