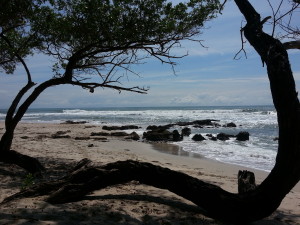 This photo was taken November 2013.  I spent a bit more than a week in Santa Teresa, Costa Rica, learning how to surf.  My goal was to stand up at least once…
I stayed at the Blue Surf surfing camp.  The room was comfortable, the staff were wonderful, and I had a 7 day package, which included two surf lessons a day, and breakfasts at the local yoga retreat.
It would seem that surfing twice a day for seven days is a thing, especially since they created a package.  By day five I was so freakin sore, and I felt like a wuss, but I told the staff that I had to take a break, and could I trade my lessons that day for a massage.
Apparently they were shocked that I had lasted that long and were possibly taking bets on when I'd have to take a break, because one of the staff replied, "Well, we were wondering how you were doing it every day.  Even we don't go every day…"
I'm happy to report that by the end of my lessons I managed to stand a couple times, so my expectations and goals for that trip were met.
The photo above is just one of the amazing vistas I saw each morning walking the beach to and from the yoga retreat for breakfast.